Use Search Term Detail to drill down into both your Paid, PLA and Organic search term data.  
See which of your Competitors are bidding on relevant Search Terms, how successful they are and the average estimated cost for their position.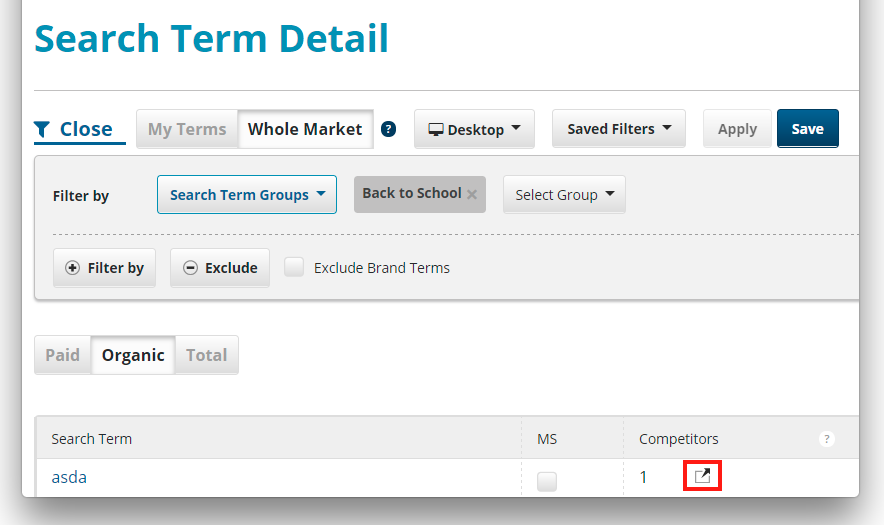 The table shows the following metrics:
Search Term

- clicking on a Search Term opens a menu to set a term as either

Priority or Ignored Terms

(or to remove a previously applied Priority label).  
Competitors

- count of the number of your competitors we have seen on this search term.  Click on the Quicklink icon (in red box) to show which competitors are appearing on the term

Estimated Clicks

- Search volume (from Google) multiplied by Frequency and CTR for each of your competitors who have appeared on the term

Average Position

- the average position that your competitors have appeared in

Top Competitor

- the competitor who appeared most frequently in the top position

Estimated CPC

- the average estimated CPC that each competitor paid in the positions we saw them appear in

 
FAQs 
Can I export the data and see all of the adverts in the grid?
Yes, click the Export button in the top right corner and a CSV file will be created.
CPC - Why does historic Adthena data change when reviewing the same period at a later date?
Case: I tried to look at the est. CPC for a specific Search Term, the data I saw today is different from what I saw yesterday? And the previous data have all changed? 
Every night Adthena's complex models re-estimate the CPC of every competitor on every Search Term we have seen them appear on, in every position we have seen them appear in.
These values are then averaged and assigned to that competitor as the estimated CPC for that Search Term. This is why you see a historic change when looking at a specific Search Term, also for a specific competitor.
Storing historic CPC predictions is a feature request that may be introduced in future though there is not yet an ETA for this change.
Since the estimated CPC for a specific competitor on a specific search term is re-calculated and overwritten nightly, both for yesterday and historically, it is currently not possible to look back at historic CPC estimates when filtering down to the level of competitor and search term. 
However there is a way that you will be able to set up Scheduled Reports to report data for a set period, i.e. Monthly and have a record of this that will not change, many users set up a Scheduled Report to run on the 1st of the month and can therefore be referred to later if required.
You can set up a daily, weekly or monthly Scheduled Report filtered by a specific group of search terms (and/or competitors). 
Related Articles
Add search terms that aren't currently included
Priority Terms and Ignored Terms