Use Search Term Detail to drill down into both your Paid, PLA and Organic search term data. See which of your Competitors are bidding on relevant Search Terms, how successful they are and the average estimated cost for their position.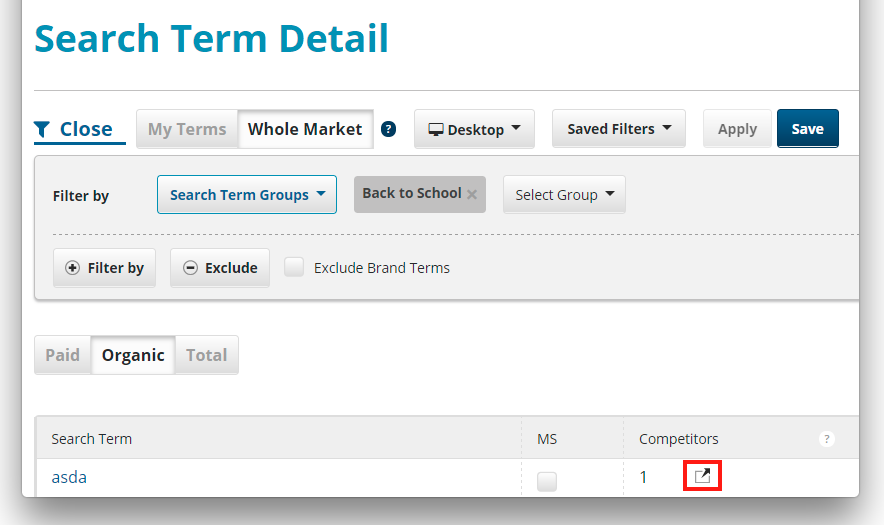 The table shows the following metrics:
Search Term - clicking on a term opens a menu to Ignore the term. Ignoring a term will tell the tool to stop collecting information on this term, so only choose it if you're truly not interested in any data on this term.

Competitors

- count of the number of your competitors we have seen on this search term. Click on the Quicklink icon (in red box) to show which competitors are appearing on the term

Estimated Clicks

- Search volume (from Google) multiplied by Frequency and CTR for each of your competitors who have appeared on the term

Average Position

- the average position that your competitors have appeared in

Top Competitor

- the competitor who appeared most frequently in the top position

CPC Range

- is the entire range of CPC pricing that Adthena has seen you or your competitors appear on
FAQs
Can I export the data and see all of the adverts in the grid?
Yes, click the Export button in the top right corner and a CSV file will be created.
If I exclude a competitor does that exclude all search terms that they have appeared on?
The exclude competitor filter will only remove any terms that the competitor has appeared on alone. It will also hide the excluded competitor from the search term details data and averages e.g. if you see 3 competitors appearing on a search term, by excluding one of the competitors, the term will still be shown in the results, but the term will only show as having 2 competitors.
Related Articles
Add search terms that aren't currently included
Priority Terms and Ignored Terms