Market Trends shows how your Top 10 competitors have trended (or behaved) over time The data is segmented into four charts - Paid Desktop and Paid Mobile as well as Organic Desktop and Organic Mobile, allowing you to easily see over time what is changing across the different areas you compete in.  Clicking on Totals will give you the sum of the segments:
Total Desktop = ALL paid + organic on desktop

Total Mobile = ALL paid + organic on mobile

Total Paid = ALL paid on desktop + mobile

Total Organic = ALL organic on desktop + mobile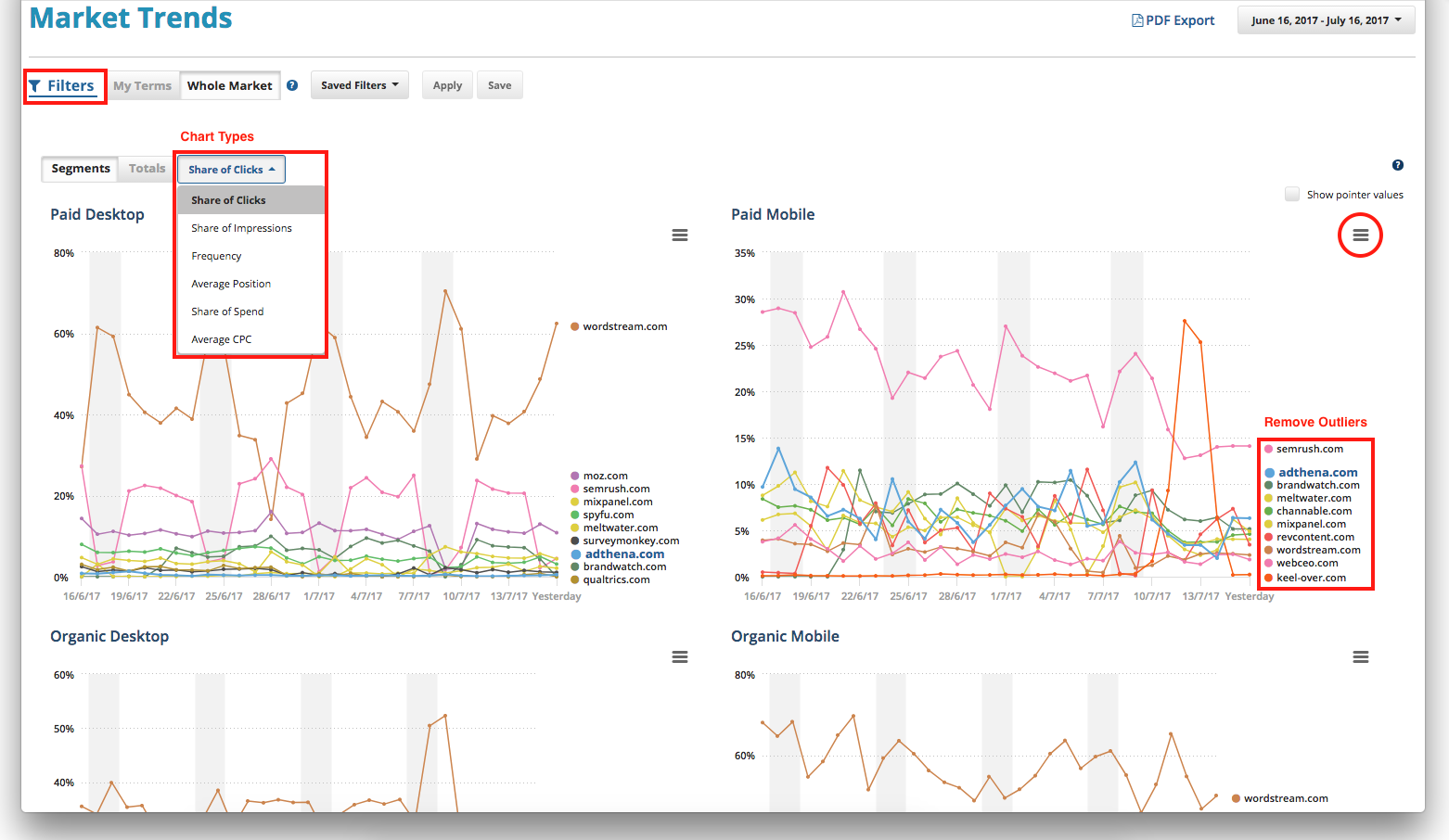 Share of Clicks - Paid, Organic, Total (Paid+Organic)
Share of Impressions - Paid, Organic, Total
Average Position - Paid, Organic, Total
Frequency - Paid, Organic, Total
Share of Spend - Paid
Average CPC - Paid
There is a calendar or date picker above the chart that can be used to adjust the timespan shown in the line chart.
The last 30 days shows a day-by-day chart
Selecting a start date older than 30 days will show weekly data
Selecting a start date older than 13 months will show monthly data
Data is available from Sept 2015 onwards
The trend line chart becomes more useful once you apply filters to show specific search terms and/or competitors. If you have filters that you apply regularly, you can also choose to save them as a Saved Filter.
If one of the competitors in the chart has significantly different data from the others then you might want to remove them:
mouseover the competitor name on the right side of the chart
an 'X' should appear, which when clicked will remove the competitor from the chart
the chart should re-draw automatically with a scale more useful to the remaining competitors
To undo the change and get the removed competitor back, simply refresh the page.
Clicking Export PDF on the top right of the page will allow you to download a PDF file. In the file, each competitor will be row and there will be a data point for every date on the chart.
Alternatively, you can choose to download the data in other formats including PNG, JPEG, SVG vector image or CSV by clicking the options button on the top right of the page.
How is each metric calculated?
Clicks: Impressions x CTR = % share of total clicks
Impressions: Monthly Search Volume x Frequency = % share of total impressions
Frequency: Competitor Appearances / Total Searches (Scrapes), which is weighted by search volume if there are multiple search terms
Average Position: position competitor most frequently seen in, weighted by search volume if there are multiple search terms
Spend: Clicks x CPC = % share of total spend
Average CPC: estimated Spend / estimated Clicks
How many competitors are shown in a Trend Chart?
10
How does it choose which 10 competitors to show?
If you have not added any competitor filters and there are more than 10 competitors appearing on the selected search terms then the chart will contain you plus the top 9 competitors.
Does the total share in the chart add up to 100%?
The share is for all competitors matching the applied filters. If there are more than 10 competitors appearing on the selected terms then the total share of the competitors shown in the chart will not add up to 100%.
How can I see all the competitors at the top right of the chart?
If all the competitors matching your filters have 100% share then some of them will not appear. Firstly, if everyone has 100% share then what insight are you getting? You can add additional competitor filters or you can remove a competitor from the chart (see 'Removing Outliers' section above). 
What time can I see the most recent data?
Data for the previous day is available at 9AM local time for all countries. If you're working on an account that is based in a different timezone to your current location, this should be a consideration.
Why can I only see weekly data?
When the Market Trend chart page is first loaded it will show daily data for the last 30 days.
If you select a date range older than 30 days, the chart will show weekly data (no matter how many days are selected). Each point on the chart will be labelled with the date that the week started.
I'm trying to view weekly data that is more than 30 days old but the trend chart will only show me data up to the end of last week, not the most recent data. Why?
When filtering whole week data between a period greater than 30 days to a day in the current week, Adthena will only show you data up to the end of the previous WHOLE week.  The reason being that weekly data is calculated every Sunday, so weekly data for the current week will not be available until the following Sunday.
How far back in time can I load Trend Chart data?
You can load data back to September 2015, although this might depend on how long your domain has been live in Adthena.
Related Articles
How is the CPC and CTR calculated for each Search Term?