Compare up to three competitors to determine the total percentage of shared Search Terms as well as identifying new Search Term Opportunities. The venn diagram allows you to quickly visualise the relative size of each competitor and how significantly they overlap.
In the search boxes at the top, enter the competitor's domain that you would like to compare (minimum 2, maximum 3). Then decide on:
Device: Desktop / Mobile (if you have Mobile data enabled)
Text Ads / Organic Listing / PLA (if you have PLA data enabled)
Search Term Group (if you would like to see ALL terms, do not select a group)

And click Apply.

The larger the circle, the more search terms that competitor appears on.
Where two circles overlap, two competitors are appear on the same search terms
Three overlapping circles mean there are terms that all competitors are appearing on.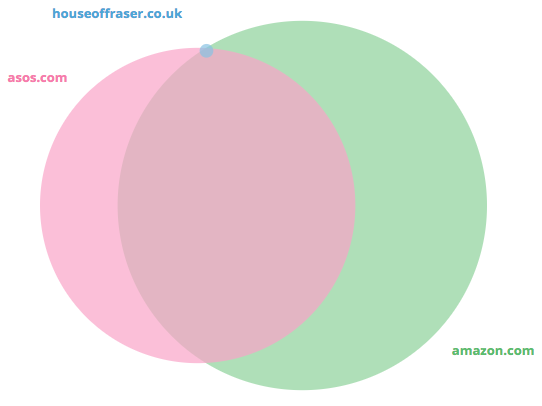 To better understand what each circle represents, click on it and a box will appear detailing the:
total number of terms the selected competitor appears on
percentage of the selected competitor's terms others also appear on
number of terms ALL the selected competitors appear on*
Clicking on the Quicklinks in the detail box will open Search Term Detail filtered by that segment.
*To quickly view terms that multiple competitors appear on, in Search Term Detail, toggle the arrow at the top of the Competitors column.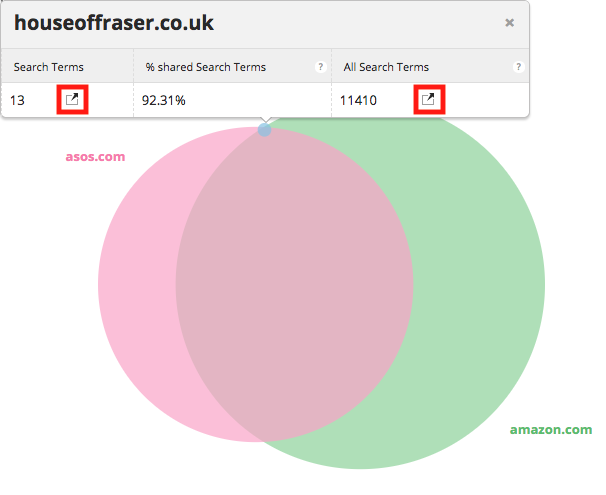 Clicking the 'Export' button will output a CSV file containing a list of the search terms for all selected competitors, the Market Share of each term (i.e. how important that term is to the Whole Market) and which competitor(s) appeared on the term.
What date period does the chart data filter by?
The last 30 days.
How can I identify quality search terms that I am not bidding on, that could be added to increase my traffic?
Option 1. Enter yourself and your top two competitors, export the data and filter for terms you are not appearing on but your competitors are (optionally exclude any competitor brand terms). Add terms with a large market share to your Adwords account.
Option 2. Enter yourself and your top two competitors, filter for Organic listings and run the report. Export the data and filter for any terms you are not appearing but your competitors are. Add terms with a large market share to your Adwords account.
Option 3. Compare the Organic export with the Paid export. Are there any gaps or terms you appear on for Organic listings that could perform well in Paid search?
How do I set up Scheduled Reports for Head to Head Comparison?
If you would like to learn more about Scheduled Reports, you can find more information on that here. The Head to Head Scheduled Report can be filtered by Competitor Group and/or Search Term Group. You will be able to compare Search Term overlaps with more than 3 competitors.