Time-of-Day Analysis lets you analyse granular hourly search term activity for you and your top competitors in the last 7 days on both brand and generic terms. This allows you to see your competitors' day parting strategies and identify peaks in competition throughout the week.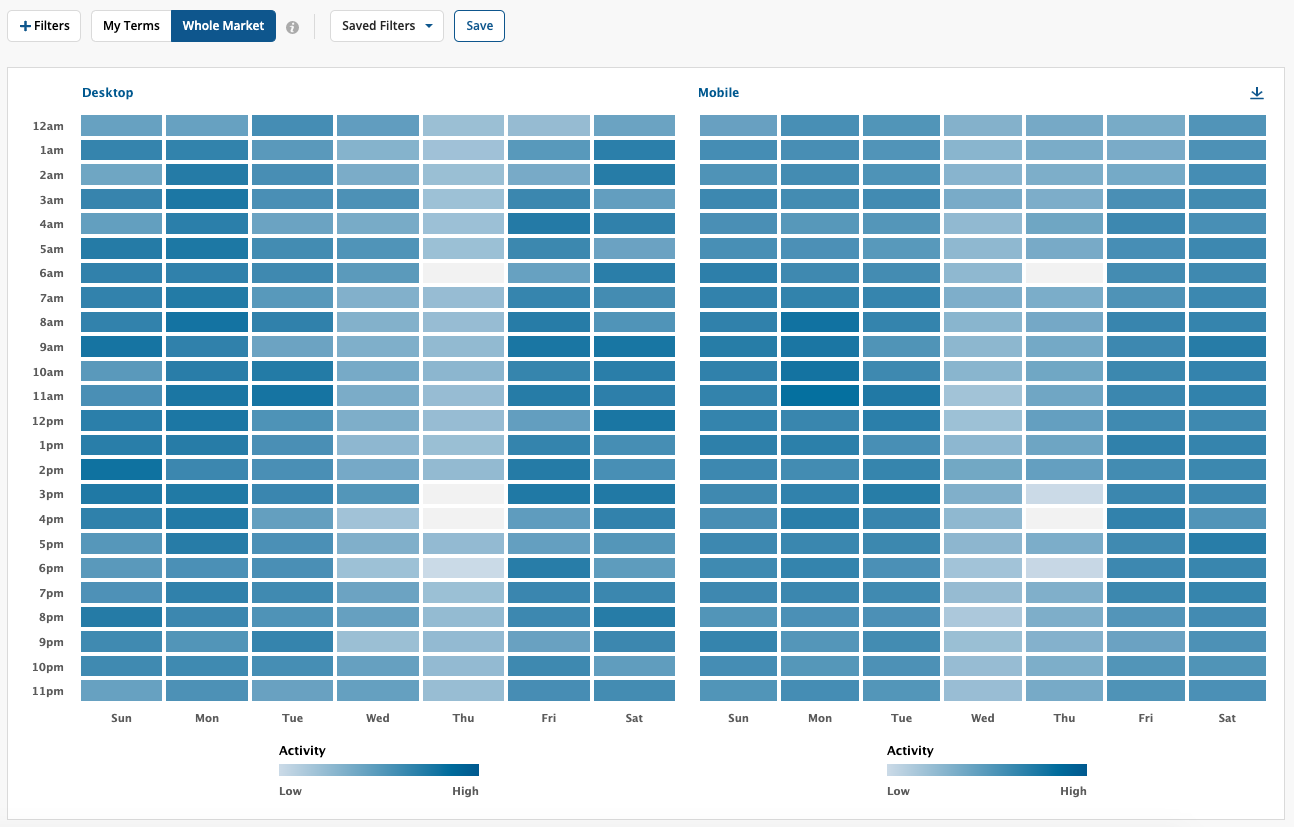 This widget can be filtered by any search term group that contains at least one hourly term; these groups will be indicated with a symbol.
The first step in utilising this feature is to decide which terms you would like to monitor hourly in Search Term Settings. Once you have added some terms into the hourly terms group, please allow a couple of days for data to start appearing the widget. Note that data will only be surfaced if two bits of logic are met:
The terms must have search volume and impressions

They are not considered a misspelling by Adthena
This heat map shows you the paid search activity on your brand for you and your top competitors for that hour. The darker a cell, the more adverts appeared that hour. Adverts appearing with higher search volume have a greater weight.
Clicking on a cell shows the top 5 search terms advertised on that hour, ranked by the number of adverts seen and which competitors have been bidding on those terms the most. Click on the Search Term Detail hyperlink in the table for more details on those terms.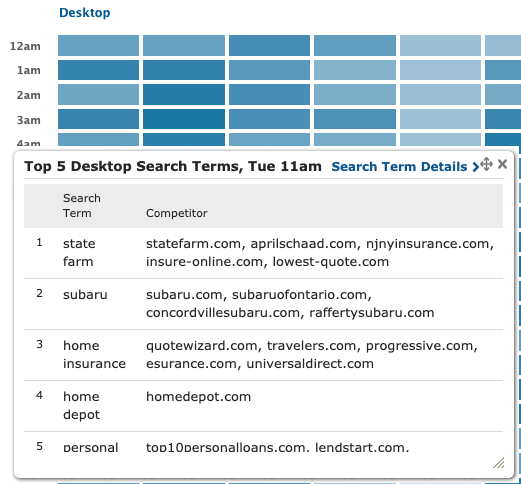 FAQs
What is the time zone of my account?
The timezone is determined by the geography of your account.
Generally time zones match location time zones. For locations that are geographically very big and cover multiple time zones like the United States and Australia, we'll show data in s single time zone:
Australia - Australia Eastern Time.
United States - US Eastern Time.
US States - Data will be shown in the time zone of the state.
Does this feature monitor hourly traffic data?
The chart highlights the competitiveness of your hourly terms (when competitor paid activity is more or less active). It does not take traffic into account as we do not get hourly traffic data from Google.
Is it possible to export the data?
It is not currently possible within the application but our product team is considering this feature. In the meantime, we will happily work with you to create an export of the exact information you want, delivered straight to your inbox via our Business Intelligence team. Please reach out to your Customer Success Manager for more information.