Search Term Opportunities shows a list of search terms that you are not appearing on with a Paid ad, but your competitors are, in the last 7 days. You can filter by desktop or mobile and view all of the opportunities by clicking the 'Review all search terms' link in the bottom left corner.
You can choose to download the graph data in various formats including PNG, JPEG, PDF or as a SVG vector image by clicking on the menu button in the top right corner.
The columns and calculations for the page are identical to Search Term Detail and are covered in this help article.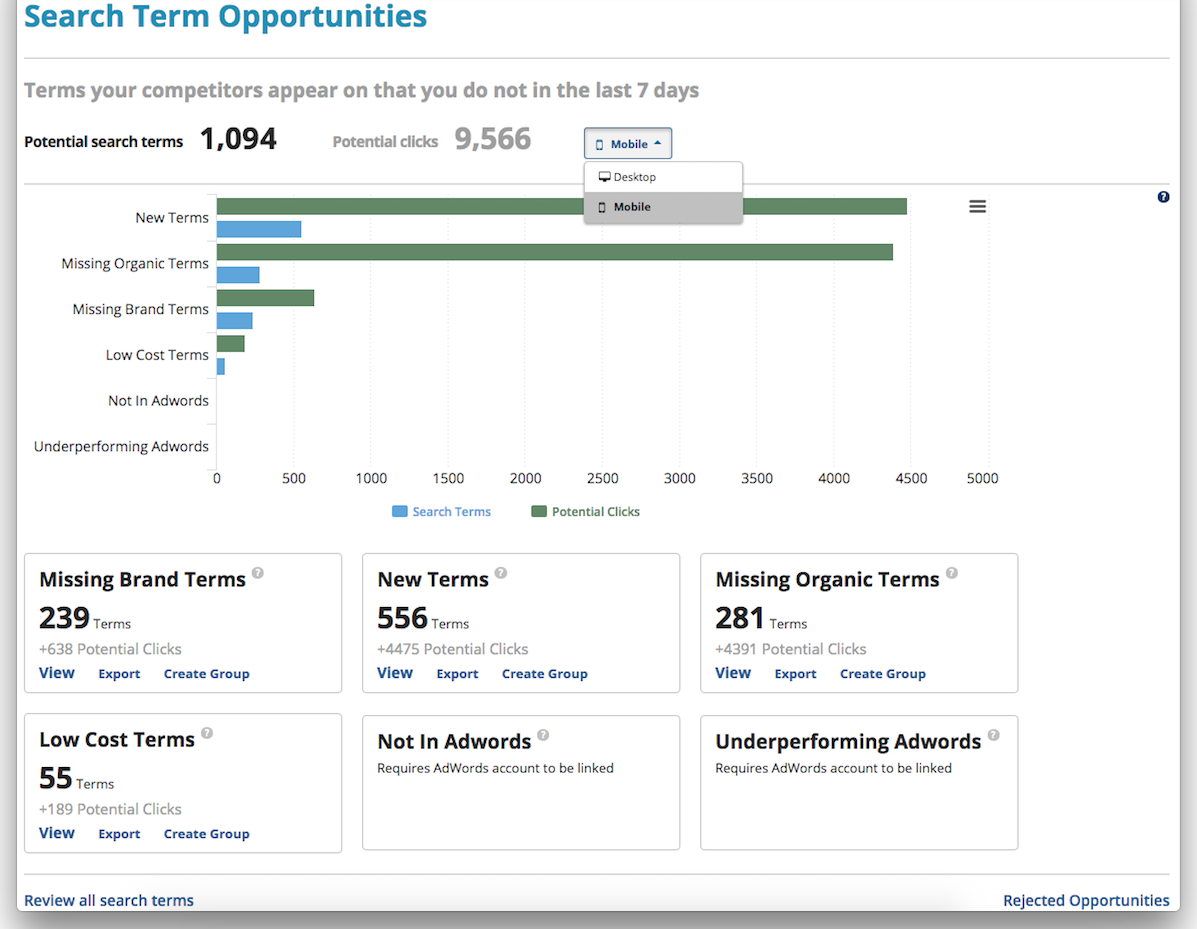 Rather than looking at a long list of all terms, you can click to 'View' the terms in one of the six segments which will filter only for opportunities that match the specific criteria:
Missing Brand Terms

- search terms that contain any of your brands where competitors are showing ads but you are not. Useful as your competitors are taking clicks from people searching for your brand.

Please contact us

if you want to check or update the list of brand words Adthena has defined.
New Terms

- new search term opportunities that have been discovered in the past 7 days. Useful if you review the suggestions frequently
Missing Organic Terms

- any search terms where you are appearing in the top 3 organic results and your competitors are appearing on paid ads but you are not. Useful if you have additional budget and want to take away Total share from competitors.
Low Cost Terms

- are defined as search terms that have few competitors and are in the bottom 10% of estimated CPCs. Useful if you are looking for tail terms with less competition and therefore less cost.
Not In Google Ads*

- search terms that do not match any keyword in your Google Ads keyword report, and we have not seen you advertising on them in the last 7 days. Useful to find new terms that can make a big impact on your performance.
Underperforming Google Ads*

- terms that match keywords that you have in your Google Ads accounts, but you are not showing a Paid ad on page one of the SERP. There are a number of reasons for this, with the action to take detailed below.
*Please contact us if you have not yet linked your Google Ads account, but would like to.
Reasons you might not be appearing on a Search Term
Possible Reason

Possible Action

Search term does not exist as a keyword in your Google Ads account

You have the keyword but it is not getting any impressions

check status of keyword, group and campaign

check you have a live, approved advert in the group

check campaign budget

check other campaign targeting settings like geo

check not being blocked by a negative keyword

You have the keyword but it is appearing on the second page of SERP

increase CTR/QS with new improved ad copy

increase bid

You cannot bid on the term (competitor brand, product not currently sold, etc.)

add the term to the group Rejected Opportunities (Built-in Group)

Suggested term is not Important to your Whole Market

add the keyword to the Ignored Search Terms (Built-in Group)
Search terms that you are unable to bid on, such as a competitor's brand or a product not currently in stock, can be rejected. There are two ways to do this:
Click on the search term, then click Reject Opportunity
For multiple terms go to Exclusions and edit Rejected Opportunities

Upload a CSV file containing a list of terms to reject

Use the text filter, then 'Add All' to add all terms containing a word(s) to the group
Check back 24 hours later and all rejected terms will have been removed from Search Term Opportunities.
Note: It can take a few days for changes to either of the above groups to be reflected in the app.
What date range are the 6 segments based on?
The 6 segments are based on the latest 7 days of data to ensure they are as up to date as possible.
I rejected some terms but still see them in the list?
It can take a few days for 'Rejected Opportunities changes to be reflected in the app.
What is the difference between Rejecting and Ignoring a search term?
Rejecting removes the term from Search Term Opportunities only. Ignored will remove the term from the account completely, which means you will no longer be able to see data for this term in your reports.
Can I update the bar chart to see just Search Terms?
Clicking either 'Search Terms' or 'Potential Clicks' in the legend of the bar chart will remove it temporarily from the chart.