Infringement Rules enable you to easily capture adverts that are appearing on your Brand Terms on Google and Bing search engines. Key benefits include:
Save money by monitoring channel partners or resellers who are competing too aggressively on your brand terms

Monitor affiliates to ensure they are using the correct ad copy and are not bidding on restricted terms such as your brand terms (and receiving commission on resulting leads)

Monitor competitors who are illegally using your trademarks in their ad copy
In this article, we'll show you how to:
To create your first Infringement Rule, navigate to the Infringements section in the left navigation menu, then go to Infringement Rules > New Infringement Rule > Set up your first infringement rule.
First enter a Rule Name and then apply Filters by selecting which device and search engine you would like to monitor. If you do not have Mobile enabled in your account but would like to track this activity, please contact your Customer Success Manager.
Optionally, add email addresses for colleagues you would like to receive the CSV report; after entering each email address you must hit the Add button.
You may want to receive an email daily even if no infringements were found the following day. In that case check the box Send daily email even if no infringements found; if left unchecked you will only get an email if Adthena found an infringement that matches the rules you have set.
For further information, please see Infringement Rules - Best Practice & Tips.
After you have named your report, added filters and decided on email recipients, you'll want to begin setting report rules for Search Terms, Competitors & Advert Text.
Enter any Search Terms that you want Adthena to monitor, such as your brand terms:
Click on the

Add Search Terms

button

Enter a term into the text box

Press

Enter

on your keyboard.

Note that you are able to enter terms not shown in the dropdown

Repeat steps 2 & 3 until all the terms have been entered
Click on

Competitors

To monitor a specific set of competitors, such as your affiliates, select the option

Only the following competitors

. Alternatively, the

All competitors except

option should be used to specify competitors that you know will be appearing on the terms consistently,

such as your own domain!

Click

Add Competitor

Enter a valid domain (such as 'adthena.com') into the text box. Note that a list appears of domains that match the text you typed but you can enter a domain that does not appear in the list if required

Press

Enter

on your keyboard

Repeat steps 4 & 5 until all the competitors have been entered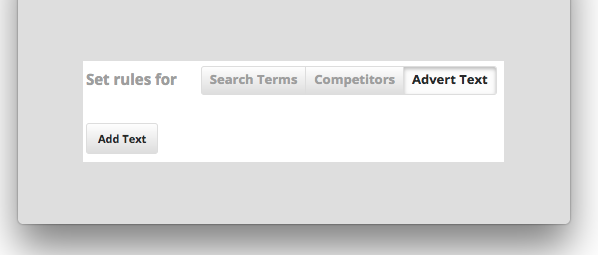 If you want to report on all adverts then skip this step.  However, if you want to only monitor adverts that include specific phrases in a specific area of the advert (such as "Discount" in the Description only), then you'll need to complete the following steps:
Click on

Add Text 

Enter a phrase (in this example "Discount"). Note that you are able to enter terms not shown in the dropdown

Press Enter on your keyboard

Repeat steps 2 & 3 until all phrases have been entered

Choose where in the advert you want searched for the phrase: Text in Title, In Description, In Display URL or In Ad Click URL.
Once all rules all have been configured, click the Save button at the top right of the page.
It's easy to Pause, Edit or Delete an existing rule. 

Click

Infringements

>

Infringement Rules

in the left navigation menu

Find the rule you want to edit

In the

Actions column click the Set Live/Pause, Edit or Trash 

button

Make your changes and click the Save button at the top right of the page.
Which search engines does Adthena monitor for Infringements?
Google and Bing
Can I monitor Infringements in any country?
Adthena captures all Google adverts in every country where we operate; Bing is currently only available in the United States, Australia and the United Kingdom.
Related articles
How do I export export an Infringement report?
Infringement report CSV export  - what do the columns mean?
Infringement evidence - how do I view it & create a screen shot?
A Competitor is misusing my Trademark - what do I do now?